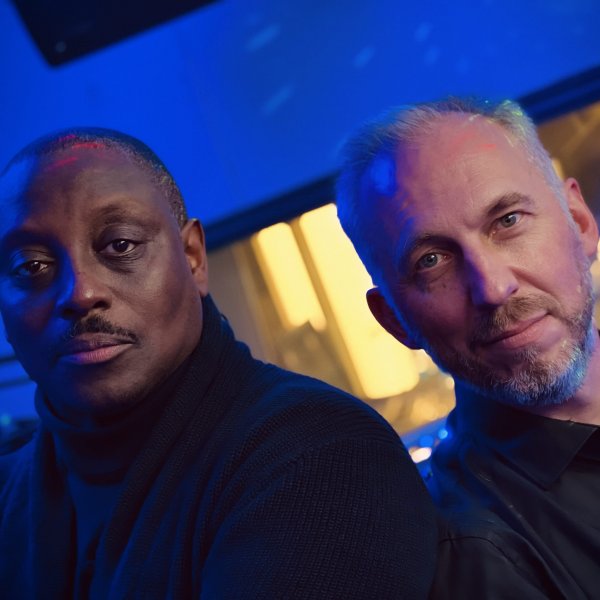 Artist
DISCO SPARKS
DISCO SPARKS was created and founded by producer duo Ed Burley and Richard Marinus

"OFF Record" aka Richard Marinus is a music, video producer and (video) DJ with his musical and DJ roots in the early 80's. His favourite styles are (Nu-)Disco, Indie Dance, Boogie, Electro, Funk, Hiphop, New Jack Swing & Soul.
He is Co-Founder and Co-Owner of (V)DJ Collective "Groove Inc." with which he organizes the success party formule "Oldskool @ Tha Beach" since 2003.
He played in lots of clubs, bars, restaurants and on festivals in The Netherlands and some gigs in Europe.

Current activities:
• "OFF Record" - inspired by Glitterbox - mixing the latest Nu-Disco/Indie Dance-music with original and unique videomaterial, re-edited by Richard. These videotracks are projected on multi screens, by using oldskool record players. Something completely new !!
• NPO Radio 2 (Dutch National Radio) Mix-DJ for radioshow "On the beat" hosted by Wouter van der Goes.
• Co-producer of "Disco Sparks" creating Nu-Disco & Nu-Boogie tracks and remixes.
• Online party "Oldskool Behind Tha Grooves" with Groove Inc. via twitch.tv.

For bookings:
Richard Marinus
Contact: info@offrecord.nl or info@grooveinc.nl
Tel: +31-6-54973521
More info:

OFF Record:
Website: www.offrecord.nl
Facebook: https://www.facebook.com/VideoDJing
Youtube: https://www.youtube.com/channel/UC5Wsjb6zzWYnRgHSjPfqylA
Mixcloud: https://www.mixcloud.com/OFFRecord/

Richard Marinus:
Instagram: https://www.instagram.com/marinusrichard/
Facebook: https://www.facebook.com/richard.marinus/

Groove Inc.:
Website: www.grooveinc.nl
Facebook: https://www.facebook.com/Groove-Inc-174708735910213
Twitch: https://www.twitch.tv/grooveinc
Mixcloud: https://www.mixcloud.com/richardmarinus/

Disco Sparks:
Facebook: https://www.facebook.com/DiscoSparks-100103145079510
Youtube: https://www.youtube.com/channel/UCrBwTf3b24vSUzpOEdXp55w

------------------------------------------------------------------------------------------------------------------------------

Ed Burley
AKA DJ Burley, Mr. Burley
Born 19 April 1967
Amsterdam, Netherlands
DJ /Producer, Remixer and Event manager/organizer
Genre: Disco, Boogie, Funk, Soul, New Jack Swing, Electro, Hip Hop, House, Deep House & Nu-Disco.
Years Active 1980-present

Ed Burley is the co-founder, composer and music producer of Disco Sparks based in Amsterdam. Disco Sparks produces Nu-Disco and funky house music with a link to the Oldskool style of the 70's and 80's. Ed comes from a musical family. At a young age he grew up with Gospel, Jazz, Funk & Soul music. Ed became interested in various instruments such as synths, organ, piano, trumpet and drums. His main interest was in drums and percussion. Several musicians and producers came in the 70's and 80's to his parents' house and the jam sessions and improvisations were a great source of his musical development. His love for records started at a very young age and dancing was not unknown to him. In the early 80's he programmed beats with drum machines and made mixtapes for friends and played as a DJ at various parties. In 1996 Ed met DJ/Producer Richard Marinus and together with other friends they founded the record collectors club 80's Groove. Later this became the DJ and VJ Collective Groove Inc. until this day. Groove Inc. organizes Oldskool and Dance Classic events (Oldskool At Tha Beach and Oldskool Behind the Grooves) and plays as DJ's and VJ also on Dutch National radio and nowadays on Twitch.

Ed Burley has worked with artists such as Sweet Charles Sherrell, Bassist Louis Johnson, Juan van Emmerloot, Miss Bunty, Marilyn Ashford Brown, Rene van Hertum, percussionist Martin Verdonk, Fresco Project and many others.

2023-07-28

2023-07-28

2023-07-08

2023-03-24

2022-12-23

2022-10-14

2022-10-14

2022-01-21

2022-01-21

2021-12-17