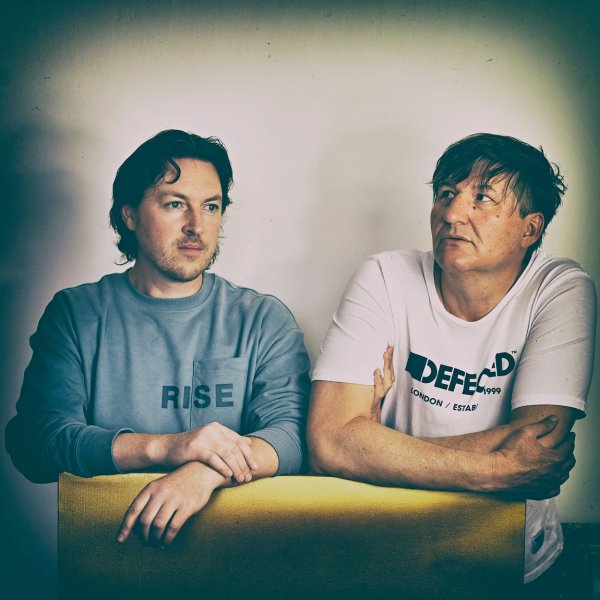 Artist
FUN & RICHIE
Fun & Richie

Since 2006, Pavel Vorel and Richard Tauchman are devotes own music as the Czech producer duo Fun & Richie.
Along they founded their own label Elemental music. At that time with their first song Sax Lab and then in 2008 with a remix of Mama Said, Fun & Richie celebrates great success in another download site and Juno Charts. Their song Fly was released on many international compilations and most recently now on Ibiza Sunset Vol. 3. Of course, also worth mentioning is the remix "Tell Me Love" for the Czech R'n'B diva Dara Rolins.
Fun and Richie have over thirty common releases.

Fun:

One of house-music pioneer from Czech Republic, where today belongs to longest and most reputable playing DJs. Origins of his DJ-career range somewhere back to year 1986, however he became the pure dance music freak in 1993. Probably there isn't any music club in Czech Republic he didn't play in.

In 93-98 works as a DJ for Labe radio and Life radio , where he has several dance music shows however as well as with genre like funky and soul. In 1999 he becomes the owner of D.I.S.C.O.2001 dance club: according to questioning in Tripmag magazine 5.best Czech dance club within year 1998! The same magazine awarded DJ amongst 15 newcomers in Czech rep.

In 2000 DJ Fun enters the booking of best known Czech agency LIGHTHOUSE , under whose wings plays not only in clubs, but also at big stages and with such stars as Carl Cox, Giom, Jimpster, Bushwacka, Jaydee, Timewriter, Circulation, Get Fucked.

Fun often performs in Roxy, Radost FX, Bukanýr, Druhé Patro or Akropolis, the most prestigious dance clubs of Prague. He also had a gigs in France, Slovakia, Monte Negro, Croatia and on many music festivals.
His favourites, whose labels he likes to play best, are Purple Disco Machine, Phonk D, Edmund, Angelo Ferreri, Opolopo, Alaia & Gallo, Joey Negro, Babert, Knee Deep, Claptone...
Stylishly - however he hates categorizing - considers his music to be groovy funky deep house with atmospheric fields and melodies, often with sweet vocals and live instruments, more recently nu-disco.

Subsequent DJ's successes : Creamfields 2002, Summer of Love 2000, Svojšice Festival 2001-2005, Open Air Field 2000-2003, SONIC Open Air 2001, Global Connection 2001, Pure Future 2002-3, The Sounds of Pure Future Tour 2003, Mácháč Open Air 2004, Carl Cox Festival 2005, Sazavafest 2005-2006, Timewriter in Roxy Prague 2007, Vodafone Vibration Tour 2008, Colors of Ostrava 2013-2017, RFP 2016-2019, Defected Croatia 2019...

Richie:

Richard as a member of Over 3 duo (www.over3.cz) participated in creation of songs: Woman in space ( pilot single of Over 3 in partnership with Dj Tráva ) : Fishbones ( probably best known track, on which Charlie One participated) : Demonstration (punk breakbeat track with live guitar of Dušan Lipert allias Dush ) : Point Zero tech house track with co-produstion with DJ Tráva ) : Beated ( club- breakbeat , edited on CD compilation MixInDa from label Eastauthentic ). These tracks, along with some others, were released on First Flight - the first album of Over 3, under label Lex Rec.

Concert shows in numerous Czech dance clubs came after (Fléda Brno Roxy , Joy FX – Prague Fabric – Annoyances Barumba – Olomouc , Exhibition ground – Plzeň Event – Hradec Králové, Karlovy Vary Movie festival, Babylon center Liberec).
Along with support musicians they appeared at numerous open-air music festivals (Summer of Love – Pardubice, Dance for Freedom – ČKD Prague, Go Planet Roxy – Tábor, Planet dance/ Greenpeace – Roxy Prague , Zámostí – Třebíč).

Separately he works on subsequent projects and tracks, where appeared the influence of other genres (new jazz , funky, new school breakbeat).

2023-03-03

Fly
Free Flight Mix

(5:43)
2023-02-03

Fly
Free Flight Mix

(5:43)
2023-01-27

2022-07-08

2021-12-10

Jimmy
LeBaron James Remix

(6:18)
2021-12-10

2021-12-10

Jimmy
Jacssen Remix

(5:48)
2021-12-10

2020-06-05

2020-06-05