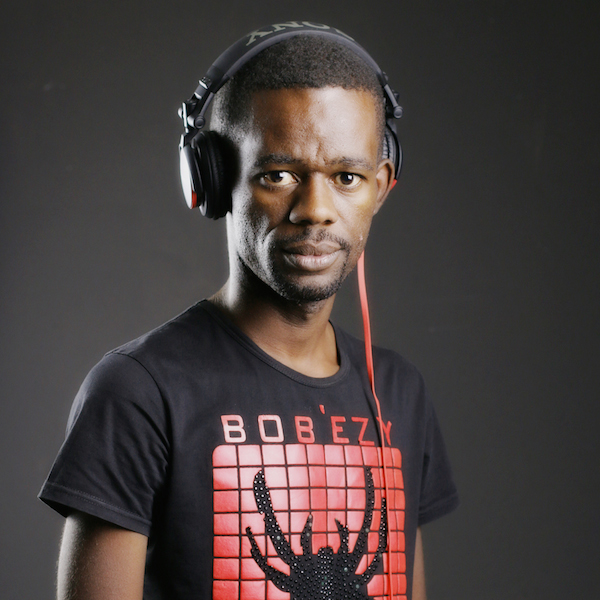 Artist
BOB'EZY
From Durban to Mpumalanga via Jo'burg, Bob'Ezy has worked with the industry's key players. Already established via the DJ circuit, his remixing talents and an impressive catalogue of studio productions, Bob'Ezy is ready to take his place in the spotlight. This fresh new talent has all the right audio alliances and a style which pulls together kwaito, tribal, deep and soulful elements into floor-shaking masterpieces.

Like many teenagers, Bob'ezy started collecting cassettes, CDs and vinyl compiled by his house heroes-SA's pioneer DJs and producers Cleo, Fresh, Ganyani, Oskido and Mbuso. Totally immersed in house music, Bob'ezy was introduced to the DJ world by Dr.Duda in 2003.

Eager to learn more, Bob'Ezy moved his turntable skills and ability to rock a dancefloor into the studio. His mentor, Dr. Duda shared some production skills and soon Bob'Ezy was making bootleg tracks for his DJ sets. Steadily, Bo'Bezy started carving out his own sound, making mixes and distributing them. Once he was confident enough, he started making his own tracks and started sending out demos to different record companies.

A turning point came at a gig in Witbank in 2005 when Bob'Ezy met DJ Bobo Da Beat from Ikwekwezi FM. Through him, Bob'Ezy was introduced to Mzura Kuse, headhoncho of Ziyawamo Records. A year later he was signed into Ziyawamo Productions as producer - where he worked on all their releases.

In 2008 Bob'Ezy teamed up with Durban artists DJ Menace and Smallz and co-produced 'Money Maker' which was nothing short of a club phenomenon. Vigorous vocals and an infectious house beat shook the clubs up and it became one of the biggest tracks of the year. Bob'Ezy went on to produce Smallz' Money Spender album with the hits tracks 'Money Spender' and 'Zulu'.

With his skills now in high demand, Bob'Ezy was now producing for the people he admired as a teenager-Tokzen, Ganyani, Mbuso, Dr.Duda, Sox, Tira, Chynaman not to mention newcomers like Qness, DJ Clock and Blackwhole's DJ Aero, The Game and Hypnosis (amongst many other). Regularly reaching number one spots on radio stations around the country- Bob'Ezy's tracks, with their funk-injected basslines and distinctive melodies demand to be danced to.

Never forgetting his DJ roots, he continues to play all over the country and continent- rocking clubs in Zambia, Namibia, Zimbabwe, Angola, Botswana and Swaziland.
In 2012 he was approached by Soul Candi Records to be part of the Candi Roots 2- a series dedicated to unearthing the nation's hottest new producers.
2013/2014 he teams up wit Euphonik & Mpumi and produced a summer hit track called Busa which was nominated on Metro Fm Awards on "song of the year" category.
2015 he was approached by Soul Candi Records to be part of the album Producer Series Vol. 3 with Jonny Miller......... and he was appointed a resident DJ 5Fm with EUPHONIK every Sundays also on BCR FM every Friday on DJ Mzwesh's Show. If the past is anything to go by, expect big things from this chart-topping new talent.



2020-07-24

2020-07-24
2017-11-10
2017-08-10
2017-04-20
2016-09-15
2016-05-05
2016-05-05
2016-05-05