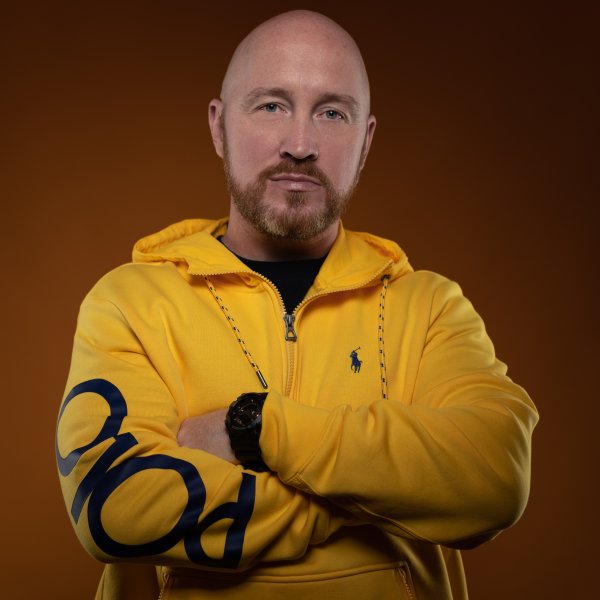 Artist
EMMACULATE
Raised by a Father and Mother who were a musician & abstract painter, Eric Welton AKA Emmaculate was groomed for the arts. Growing up on the outskirts of Chicago, he was exposed to the sounds of House Music in the late 80's as a young teenager.
In 1990, Eric started collecting House & Hip Hop records and learning how to blend. One of his close friends had an older cousin who was a DJ with an extensive record collection, but was incarcerated. Eric's friend brought this collection over to his house, which turned out to be a treasure chest of 80's House Music. Eric's mixtapes quickly caught the ear of some older guys in the area. They took him in under their wings, taught him much more about the music & culture, took him to legendary record stores Importes Etc & Gramaphone, & introduced him to a professional recording studio. This all led to Eric starting to DJ basement & house parties as a teenager, some thrown by a budding young promoter, Julius the Mad Thinker (co-founder of Mi Casa Holiday).
Eric was nicknamed Emmaculate as a play on words because of his immaculate attention to detail & quality. He developed his DJ'ing & production skills in House Music & Hip Hop, and became one of the go to producers and sound engineers in Chicago. He spent many years working as a producer and mix engineer for many top Urban Music artists in the US, as well as DJ'd countless events. Over the years, Emmaculate forged relationships with some of the Chicago legends of House Music, giving him an invaluable education and mentorship.
2017 marked the year that Emmaculate began releasing music as an artist himself. His break out single, "Do It" ft. vocalist Kaye Fox, was released on Terry Hunter's T's Box Records and reached the top 10 Soulful House chart on Traxsource. Since then he has released several singles, remixes & an EP on T's Box, Dopewax, United Music, Soulstice Music & S&S Records. In 2019, he released an EP titled "Isis" on Osunlade's Yoruba Records that hit the #1 spot on the Traxsource singles chart, and the Yoruba Soul mix of the title track was #1 on the Soulful House chart for over 3 weeks. His next single, "Never Fall In Love With A DJ" feat. Carla Prather and written by the legendary Byron Stingily was released on Nervous Records and also became the #1 single on Traxsource, supported by remixes from DJ Spen & Reelsoul. Emmaculate scored one more #1 in 2020 with "Love Manifesto", a collaboration with the poet Black Widow on T's Box Records.
In 2017-2019, Emmaculate played lived sets at Mi Casa Holiday in Mexico, Amsterdam Dance Event with Chosen Few DJ's & T's Box, and SXSW with Jazzy Jeff, Terry Hunter & Wayne Williams. His highlight of 2019 was playing at the legendary Chosen Few DJ's Picnic & Festival (Chicago), an honor among House Music DJ's.
POS.
TRACK
ARTISTS
LABEL
GENRE
RELEASED
Be Free
Emmaculate & Shannon Chambers Extended Mix

(6:11)
2021-01-29

2020-10-02

2021-03-26

2021-03-26

2021-09-17

2021-08-13

2021-01-15

2020-05-15

2020-10-02
2021-06-11