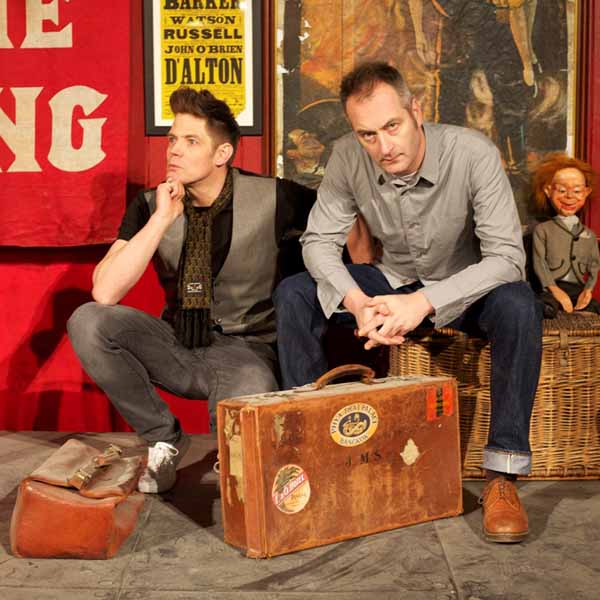 Artist
SLAM
In the past two decades, Slam have defined techno in Scotland, cultivated many artists of note on their Soma label, and remixed everyone from Daft Punk to Underworld. The legendary UK duo, comprising of Stuart McMillan and Orde Meikle, have traveled far and wide, leaving scorch marks on dance-floors worldwide, touring Australia, the USA, Europe, South America and Japan. They hold residencies at 3 of the UK's best clubs (The Arches & Sub Club in their home town of Glasgow and Fabric in London).

The last few years have been the most prolific period in Slam's career. Performing dynamic sets at many leading festivals including Time Warp, Mayday, Bestival, Glade, Awakenings, Glastonbury, Monegros and T In The Park. They have also played at some of the world's best clubs including the legendary Womb in Tokyo, Cocoon in Frankfurt, Rex in Paris and Berlin's infamous Watergate and Berghain. Their Soma Records label hit its 20th birthday in 2011, which is a great achievement in any industry never mind the fickle music business. In this prestigious year Slam were also nominated as the 'Greatest Dance Act of All Time' in the institutional UK Dance music magazine Mixmag.

Slam are the proud co-owners of Soma Records, which now in its 22nd year, continues to be one of the world's leading purveyors of cutting edge electronic music. As well as introducing and developing many new acts and album projects, Soma's recent releases have included singles and remixes from artists including Gary Beck, The Black Dog, Deepchord, Ricardo Villalobos, Joris Voorn, Silicone Soul, Surgeon, Loco Dice, Mark Henning, Nick Curly, Matthias Tanzmann, Pig & Dan, Pan-Pot, Carl Craig, Radio Slave, ROD and Sebo K. Big names. Big tracks! Slam's latest release on Soma is 'Old School Jams for the New Republic'; a two track EP of powerful dancefloor burners.

Slam's Paragraph imprint has also been going from strength to strength. Many of Slam's original productions on Paragraph have also been remixed since the labels inception. Artists like Adam Beyer, Pan-Poy, alan Fitzpatrick, Gel Abril, Julien Chaptal, Steve lawler, Sasha Carassi & Harvey McKay have all tried their hand at Slam's original productions coming up with a host of new interpretations. Slam's 'Alliances' series, has also commenced on Paragraph with collaborations between Slam and their friends and peers. The first release was with Gary Beck and is soon to be followed by collabs with Pan-Pot & ItaloBoyz. Their Return To Mono residency at Glasgow's Sub Club has also etched its way into the Paragraph label through the 'RTM Project'. This concentrates on the housier side of the duos productions.

As well as a string of monster tracks on their own Paragraph and Soma labels, this prolific period has seen Slam releasing singles and remixing on other imprints including Planet E, Figure, Bek Audio & Sleaze. Following on from their 'Old School Jams for the New Republic' on Soma was the 'Campana' release for Len Faki's Figure imprint, which included a top-drawer Gary Beck Remix. Slam's next stop was on Gary's Bek Audio imprint were they released the 'Harem' single. Slam have also been tied closely with Drumcode, most recently destroying clubs with 'Vespula', the 5th Slam single for Adam Beyer. The duo have also remixed Spencer Parker, Christian Smith, Josh Wink, Paul Ritch, Pan-Pot, Radio Slave & Paperclip People, many of which are combined with Slam's Paragraph, Figure and Drumcode singles on the Soma-released Slam album 'Collecting Data'.
POS.
TRACK
ARTISTS
LABEL
GENRE
RELEASED
2011-09-19
Throw
Slam's Rtm Remix

(7:37)
2013-10-29

2023-02-10

Eterna
John Digweed & Nick Muir Remix

(7:54)
2012-05-14
1991-08-01
2016-04-01
2009-03-08
1995-09-25