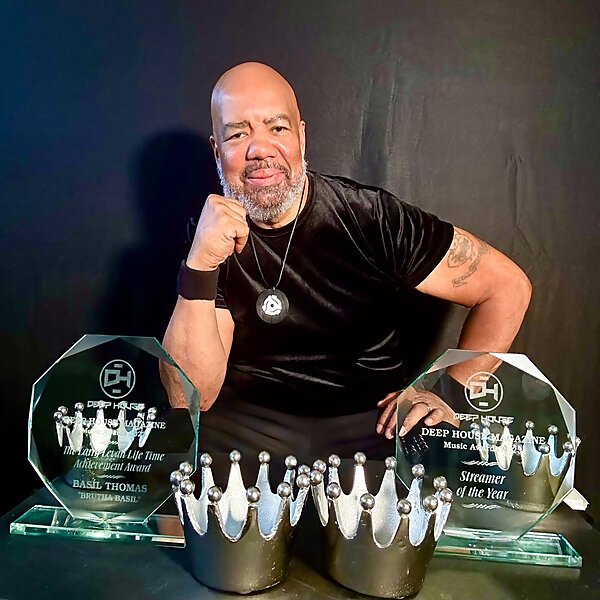 Artist
BRUTHA BASIL
Brutha Basil

DJ/Producer/Artist
Brutha Basil has been in his career recognized by the names: DJ Basil,Basil Hardhaus, Basil Hardhouse, Basil

DJing nearly a half century (46 years)former staff member at Paradise Garage in New York City. And resident DJ, at iconic NYC mainstream clubs that many of todays top DJ's attended every week. In addition an alternating resident with arguably the greatest DJ ever, Larry Levan

Recording artist that started in 1990 on iconic labels Nu Groove and the Kingstreet Sounds/Nite Grooves label. Recording house anthems collaborating on multiple occasions with Grammy winner DJ Louie Vega, "Deep Belief" and "Freedom of Dance (It's the Beat)" a classic remake "City Streets 25" with DJ Spen and DJ Mark Francis. Recognized by Traxsource consecutive years on their yearly "Artist for the Year of 2016" & "Artist for the Year of 2017" list.

Featured on 2018 #8 album "Celestial" ("Bruthas") and releasing the 2018 hit This Is What We Do Underground that stayed on Traxsource's various genre charts (House/Soulful) for almost 4 months including appearing on 100 + DJ charts as well in the top 20 Soulful records for 2 months in 2018 with TIWWDU on DJ Spen & Thommy Davis label, the success inspired two separate release (Quantize & Unquantize Recordings).

Starting off January 2019 "Sisters" on OPOM records is his second collaboration with Paris Cesvette (Bruthas) and the Grammy nominated iconic singer Will Downing. Scheduled in January are a new release on Groove Odyssey with hot producer DJ Mark Francis. And #1 rank DJ Louie Vega's Soul Mission "Deep Belief" with Brutha Basil will be available on every digital platform. And a soon coming release with another Top 3 DJ/Producer (other than any mention prior) that will ROCK the world because of it's TRUTH.

In addition a MONSTER release planned for early January 2019 with a music pioneer and legend that will surely confirm, Brutha Basil lets his artistry confirm what he does, that's why 30 years later he's still making hits. in addition Brutha Basil's weekly show on the popular Housefm.net #MyHaus #BruthaBasil every Monday internationally.

Brutha Basil made it a long standing practice, not to be distracted by confirmation of any sorts. Because it's the dance floor and people that make the music authentic, learning this from his idol Prince Rogers Nelson whom he even made a track in honor of (right here on Traxsource "Purple To The People).

The industry is what it is, but in the long run not trends or especially charts, are remembered. That's why they change every single week, especially in this era. And quite ironically...
Brutha Basil remains prominent in a now forever changing landscape of this new music scene. And like fine wine, some things get better in time.

January 2019 will solidify that ASAP.
POS.
TRACK
ARTISTS
LABEL
GENRE
RELEASED

2019-01-18

2018-10-12

2018-11-09

2019-02-01

2018-10-12

2019-02-01

Stress
Instrumental Mix

(6:45)
2019-02-01
2016-08-20

2018-10-12
2018-02-23