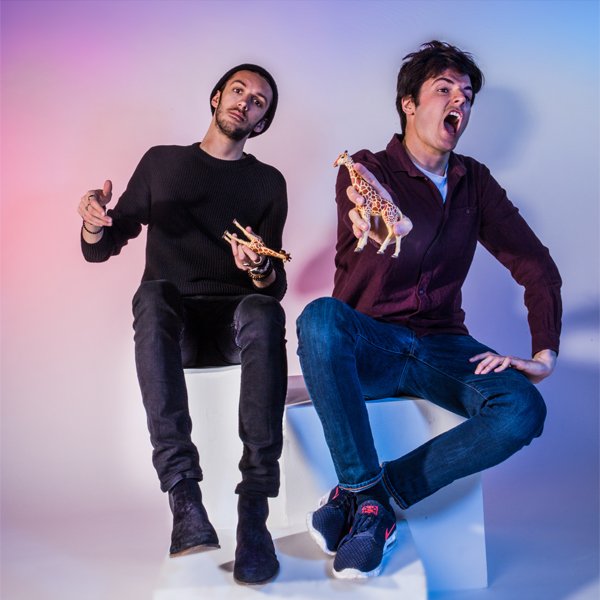 Artist
FATOUMATA
Pierre & Tim, friends since 2008 and united by their passion since 2012, never leave each other's side. They have found in one another a real artistic complementarity. No one would be surprised that their meeting was provoked by a music whistled by Tim, that Pierre, a long time musician, instantly recognized.

It's in a basement studio at Pierre's house, that both music lovers have been working for 6 hours on a new production. From a house influence, sometimes groggy, sometimes hovering, it is these beautiful melodies that allowed FatouMata to entertain crowds of the Moulin Rouge, the Nuba, the Chambord Castle and even the Basel art festival in Miami.

These sounds, giraffes create them in a Deep House spirit. Dozens of Coffee ingested at each recording session give them a huge attention to detail for a one of a kind result. This is while listening to their creation that we realize that the duo managed to transcend us through their music, day and night. A performance achieved through the heart and the passion that the two friends manage to integrate in their music.

Pierre's pianist and saxophonist talents, mixed to Tim's originality and experience as a DJ, made two henchmen unavoidable in the electronic scene. Qualified as creative and even precursors by their increasing public, the giraffes do not have their equal to provide happiness to their international audience. A reputation that led them to work with some big names of the scene: Jamie Jones, Riva Starr, Mario Aureo, Djebali or Synapson.

To discover all the giraffes' production, you just need to visit the "FatouMata Music" Sound Cloud page: https://soundcloud.com/fatoumatamusic.
POS.
TRACK
ARTISTS
LABEL
GENRE
RELEASED

King
FatouMata & Juan FR Remix

(9:08)
2019-01-04
Nagar
Original Mix

(8:34)
2018-07-19
King
FatouMata & Juan (FR) Remix

(9:08)
2017-11-10

King
FatouMata & Juan FR Remix

(9:08)
2020-09-11

Cela
Fatoumata Remix

(6:32)
2019-02-15
2018-12-21
2018-12-21
2018-06-25