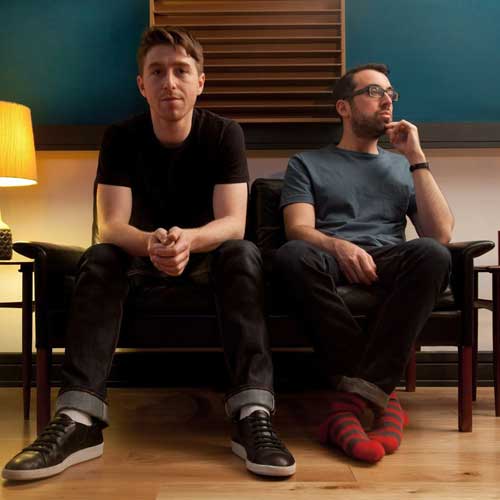 Artist
BERKSON & WHAT
After something of a hiatus since 2009, Dan Berkson and James What are back to working together and back doing what they do best: making raw house and techno and playing live shows that are as engaging to listen to as they are to watch. In making this welcome return, the London based pair is also opening a new chapter in the form of new label ModelMaker. It kicks off with a trio of great new EPs and a long overdue debut album that is already picking up support from those in the know.

"We have a very wide taste in music," explain the pair that first broke through off the back of some killer EPs on Poker Flat and Crosstown Rebels. "Electronic music is just a small part of the influences we like to try to bring to our sound: Jazz, dub, experimental music and vintage equipment all get leaned on, and we even used a poem text from British writer Patience Agbabi on our debut album."

Said album is sure to combine all those influences into a soundtrack that is both physically assertive on the dancefloor, but that also fires cerebral synapses and engages listeners on an emotional level, as have their previous works dating back to 2006. Alongside being an accomplished studio do that really knows how to get the bets out of their carefully curated selection of analogue and outboard gear, Berkson & What are also standout live performers that have commanded crowds everywhere from Sonar to Fusion, Fabric to Panorama Bar.

Such sets are ever evolving things filled with a real sense of energy, but also an artistic musical element that separates it from the loop based best of the rest. Testament to their live skill is that after collaborating on a few records with Robert Owens, Berkson & What were also briefly part of a live project as the Robert Owens Band, performing his classic tunes classic at festivals worldwide.

Individually this pair has also won plenty of acclaim. Chicago born Dan has been a professional musician since his mid teens and spent his early years as a successful keyboard player, touring the States with various jazz bands during the late 90s. After relocating to London to study music yet further, he soon found favour with clubbers and DJs everywhere thanks to his slick fusions of classic and contemporary ideals on revered labels like Simple, 2020Vision and Compost.

James, meanwhile, as well as DJing solo everywhere from Robot Heart at Burning Man to across both Americas, Europe and Japan, has previously hooked up with Crosstown boss Damian Lazarus as Zod, releasing with the dance music legend on his other label, Rebellion. So too has his original solo work, which is a knowing concoction of gruff techno, slick minimal and classicist house aesthetics, come on labels such as Crosstown Rebels, Poker Flat and Murmur, with remixes being commissioned by Rue de Plaisance, CityFox and My Favourite Robot.

As well as the forthcoming album, Berkson & What are to release on Dogmatik, Lee Burridge's Get Weird label and Seth Troxler's new Play It Say It all before the end of 2014. In doing so, then, this dynamic duo will no doubt re-establish themselves as one of the most consistently entertaining duos anywhere in the house and techno world.

Keep On
Tim Engelhardt Remix A

(6:32)
2019-08-16

Keep On
Tim Engelhardt Remix B

(6:51)
2019-08-16
2017-01-16
2017-01-16
2015-12-08
2015-12-08
2015-12-08
2015-12-08

2015-09-11

Runny
Berkson & What Remix

(7:49)
2015-09-11