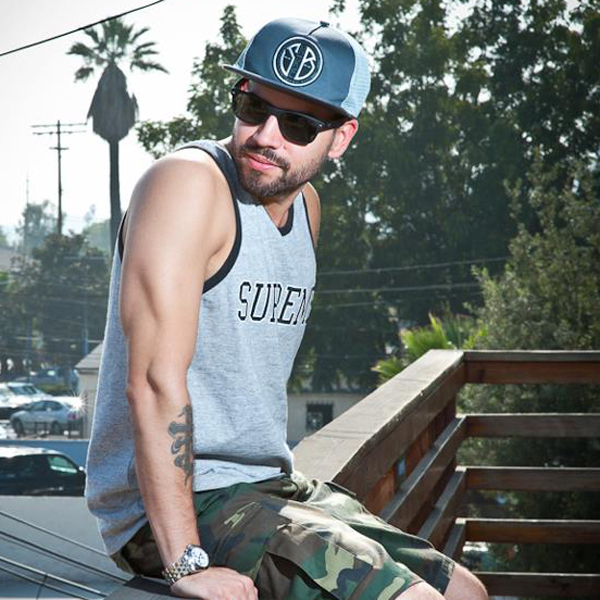 Artist
ALIX ALVAREZ
They say curiosity killed the cat, but for this cat curiosity only made him stronger as he was driven to search for new sounds in early hip hop and beyond harvesting each sound into his unique production style of today. "Im layin' the foundation down" declares Alix Alvarez as he raps about past present and future. Born and raised in The Bronx, NYC this humble cat has been making waves in the music game for quite sometime. Nourished on vinyl selections of disco, soul and salsa by his parents in his formative years, Alix was conditioned to be a musical mastermind at an early age.

Heavily influenced and motivated by an older sister & cousin when he was 12, Alix began his musical journey on the turntables mixing records by house music fame Todd Terry's "Bango" to picking up wax by Big Daddy Kane and DJ Premier. In July of 1999, Alix was given the opportunity that lead him to be an assistant sound engineer at MAW studios - "Little" Louie Vega and Kenny "Dope" Gonzales' (Masters at Work) studios in NYC. Like a kid in a candy store Alix literally slept in the studio making beats on the down low, gaining as much knowledge in this musical discourse as possible. It was his experience and training at the MAW studios that helped him to develop his engineering skills as he was beginning to produce and write his own deep house gems. Over the next few years Alix found himself as an integral part of the New York house music scene bumping heads with receptive players in the industry, such as Sandy Rivera (K.O.T) & Osunlade who served as mentors to him.

While working at MAW studios Alix met now co owner and partner in Sole Channel records, Mr. V, a lower east side local who also worked for the label portion of MAW. The two quickly started hustling their sounds together about town. For the next 2 years Alix and Mr. V jointly held a monthly party calling it "Sole Channel" throwing down soulful, funky, house rhythms into the early morning bringing back the nostalgic vibe of the old school underground house parties in NYC. The collaboration between Mr.V and Alix was a no-brainer with their complimentary styles in both music and on life philosophy. Already having a fresh name, the artwork to brand themselves and connections to music heads world-wide, in 2004 Alix and Mr. V launched their now internationally recognized record label, Sole Channel Music. Since the label was incorporated, Sole Channel releases have been flying out and landing all over the world placing these two in the top tier of future house music creators.

2001 marked Alix's first release entitled "The Nu Breed E.P." on Essence Records UK and since then he has been releasing original tracks and remixes like a mad man! Mr. Alvarez has been sought out and internationally recognized for his remix projects on UK Soul songstress & grammy winner Amy Winehouse's "Tears Dry On Their Own" as well as remixing an impressive array of talent that include James Ingram, Sean Escoffrey, Miguel Migs, Lady Alma, Tortured Soul and more recently Universal Music's soul songstress, Jully Black. Worldwide success has prevailed for Alix from his production of the world wide smash and highly acclaimed "Da Bump", in collaboration with Mr. V and Miss Patty released on Defected Records in 2007. He continues to add to that list as his production skills get tighter with each new release. With a heavy tour schedule, Alix has been on the road spreading the Sole Channel love world wide from Japan to Johannesburg and everywhere in between. Alix and Mr.V have teamed up with famed Parisian producer Franck Roger as co-creators of the internationally renowned 5 Beats party which hold residencies in Paris, London and NYC. The monthly event brings the best DJ talent from around the world. Reinventing house music by combining it with hip hop sounds, Alix Alvarez's productions continue to defy the boundaries of electronic music.

2023-03-09

2022-11-24

2022-08-26

2022-06-30

Conqueror
Alix Alvarez Instrumental Mix

(8:25)
2022-06-30

2022-04-15

2022-01-01

2022-01-01

2022-01-01

2022-01-01