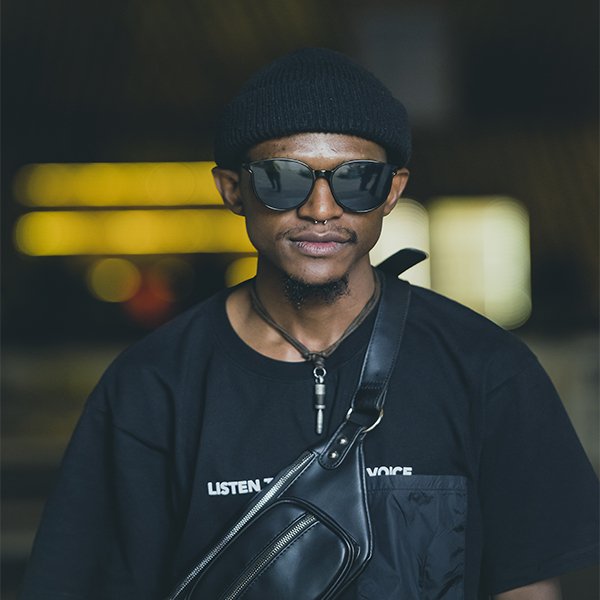 Artist
CORNELIUS SA
CORNELIUS MASHILANE

The sounds of Cornelius Mashilane, who goes as
Cornelius SA, have the power to take audiences on
a deep, mind-moving, feel-good journey.
His grooves penetrate deep into the soul – using
waves of distortion that create a powerful
emotional counterpoint.
This music experience is guaranteed to live on long
after a release date.

A DEEP, MIND-MOVING, FEEL -GOOD MUSIC JOURNEY

Cornelius SA is a self-taught DJ, Producer and Remixer
from Soshanguve, a township in the South of
Pretoria. His intrigue in music was sparked in his
formative years and has flourished into a deep love
affair with deejaying and production.
Cornelius has played alongside some of South
Africa's most promising talents such as Kat
La Kat, Jazzuelle, Sean Munnick, Swizz, Da Capo,
Dwson and Bruce Loko. He has also played in
prominent spaces such as in ERA (Cape Town),
House22 (Pretoria), Kitcheners (Braamfontien),
Bushfire Festival (Swaziland), Oppikopi Festival
(Limpopo), Black Coffee's Summer Residency at
Shimmy Beach (Cape Town), Ryan Murgatroyd's
SWOON at Wonderland Club (Cape Town), Cape
Town Electronic Music Festival and the Smoking
Dragon Festival (Drakensburg).

A GLOBAL ARTIST

This South African dj has started winning the
hearts and ears of a global audience. In 2016, New
York City based record producer, Kenny Dope,
signed him under his record label, Dopewax. Here,
Cornelius released the single "Heaven" featuring
Honey Molasses which has taken the international
audience by storm. In 2018 he was selected to
participate at the Red Bull Music Academy's 20th
Anniversary in Germany as well as at the Paloma
Bar, Berlin, where he headlined the night with
Pearson Sound. Additionally, his remixes have
been featured in prominent digital spaces such as
Tomorrow land's Playlists.

At present he has released two single tracks
"Diamonds" & "Faith", which have given him
numerous opportunities to build relationships with
fellow musicians who share a unique musical
outlook. At the forefront of these like-minded
visionaries are Anjuna's Above & Beyond, Maxim
Lany, Shane 54, Jono Grant (Anjuna), Eelkr Kleijn,
Chicane, Alexander Popov, ZEROTHREE and
Maykel Piron, who have been passionate
supporters of Cornelius SA since they first heard
"Diamonds".

2022-11-11

2022-11-11

2022-11-11

2022-10-28

2022-08-12

My Way
Cornelius SA Remix

(6:19)
2022-07-01

2022-04-01

2022-03-25

2022-03-25

2022-02-18