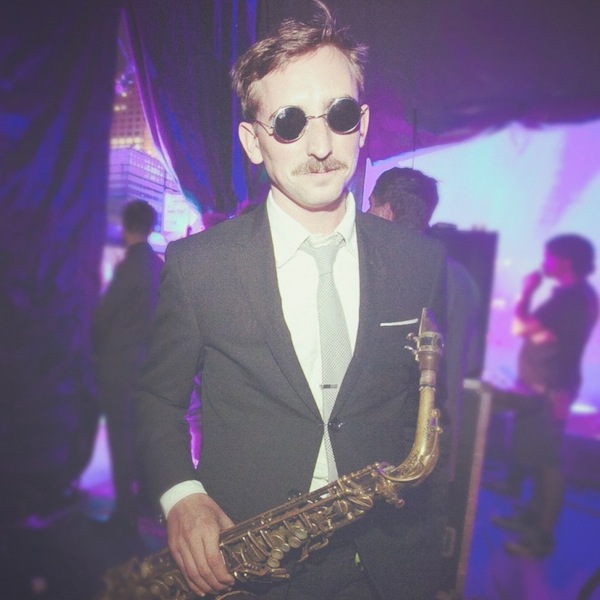 Artist
SAMMY BANANAS
Brooklyn producer and party maestro Sammy Bananas lives up to his name by crafting ecstatic tracks that ditch trendy production tricks in favor of pure dance satisfaction. One of the first artists to join the influential Fool's Gold Records roster, he churns out remixes for such big names as Chromeo, Passion Pit and Kid Cudi while sculpting striking original tracks through his signature moniker and multiple side projects. Traveling often, Sammy has rocked dance floors in over 90 cities across the globe, sharing stages with the likes of A -Trak, Kenny Dope and Holy Ghost, each year expanding his reach while still returning to his favorite towns.

Sammy excels in repackaging familiarity. Peel back the outer layer of a Bananas production and you're left with a sweet interior of pop reference and raw nostalgia. This core allows listeners to feel an immediate connection with his music, but still get excited by the edgy and current dance shell. Whether it's a refreshing take on a radio staple like his recent bootleg of Young Jeezy hit "I Do", the sampling of an R. Kelly classic in "My Body", or covers of pop hits as Telephoned, a huge range of DJs love playing his tracks because they connect with crowds but are also fun to play. As electronic dance music extends it's reach from clubs into iPods, a growing fan base keeps checking for his new releases.

It all started by chopping 90s R&B into quirky infectious uptempo club tracks on his first two Fool's Gold EPs, and Bananas continues to grow. His first non-sample based song "Move Your Body" saw release in early 2011 and in the Fall of that year, Fifteenth (a collaboration with LA's Thee Mike B), released the dj staple and club favorite "Tomorrow". His newest original is the subtle, deep burner "Feel House", which recently was licensed by House-defining UK label Defected.

Telephoned, Sammy's collaboration with NYC vocalist Maggie Horn, wows listeners with their innovative approach to the cover song, but their recent all-original music shows they can write as well as reinterpret. On their 2010 self-titled EP on Fool's Gold, and through a series of free mixtapes, the duo transform and mutate current hits and reshape them in their own image using Maggie's versatile voice and Sammy's production skills. In early 2012 Telephoned dropped Ring Ring, their first EP of original songs showing that they can write as well as reinterpret. Most recently, Telephoned captivated thousands of ears re-framing early 2000s r&b classics on "U Don't Have To Call", transforming them into spellbinding and emotional covers over beats from upstart producer Clams Casino.
2019-09-13

2019-07-01

Alive
Sammy Bananas Remix

(4:58)
2018-02-23
Alive
Sammy Bananas Remix

(4:58)
2017-12-22
2017-09-29
2017-09-29
2016-02-29
2016-02-12
2016-02-12
Ròdeo
Sammy Bananas Remix

(5:10)
2013-06-06