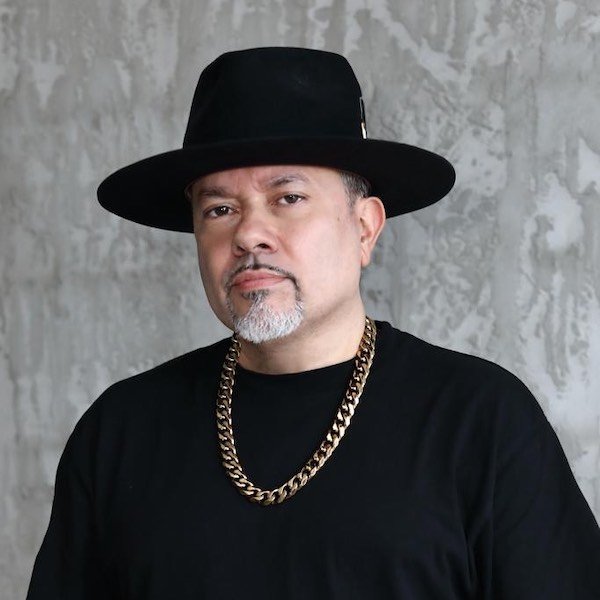 Artist
LOUIE VEGA
Impossible to pigeonhole and irreplaceable to the scene which he has helped build over more than 20 years, Louie Vega is the quintessential music professional. He's the 'DJ's DJ', that name constantly thanked on an artist's album, the one who has influenced and defined countless other DJ-producers, from today's brightest stars to those still beat-matching in their bedrooms.

In 2013, The Grammy Award Winner And 4 Time Grammy Nominee Dj, Producer, Songwriter, Composer, Label Owner, Band Leader And Tireless Champion Of Global Dance Music is only getting better, from Brazilian to Salsa, afro-beat to jazz, hip-hop to soul electronic the best is yet to come. Vega was soon making a name for himself through djing in NY at The Devil's Nest (in The Bronx), and in NYC Hearthrob, Studio 54, and Roseland as well as producing, remixing and releasing over 100 original freestyle and pop productions from 1985 - 1990, including Information Society's 'Running' & 'What's On Your Mind', Noel's 'Silent Morning', the Cover Girls' 'Because Of You' & 'Show Me', and Debbie Gibson's 'Only In My Dreams'. Linking with New York House pioneer Todd Terry he mixed various Terry productions 'And The Beat Goes On', 'Black Riot' and 'Give Yourself To Me', Vega soon met Kenny 'Dope' Gonzalez in 1991, in doing so beginning Masters At Work. Their critically acclaimed album Nuyorican Soul, along with Masters At Work "Our Time Is Coming" and producing and remixing music for artists like Michael Jackson, Madonna, Jamiroquai, Tito Puente, JanetJackson, Tania Maria, George Benson, Black Eyed Peas, Los Amigos Invisibles, and Earth Wind & Fire, have made Masters At Work one of the most successful partnerships in modern music.

From his annual Dance Ritual, Flashback, and Vega Records Get Together events at Miami's Winter Music Conference to his current Roots NYC weekly club night at New York's Cielo and his past Summer Beach club residencies Sunset Ritual & Moon Ritual at Blue Marlin (Ibiza), Pineta (Formentera), Balnearea (Otranto, Italy), along with partner Anane Vega - the true perfectionist - involves himself in every aspect of an event's development, ensuring it is a success.
The past few years have seen Vega produce & executive produce albums (on his label Vega Records) for artists including Anane, Luisito Quintero, Boddhi Satva, Mr. V and Elements of Life (his live band project), as well as releasing over 130 singles (on the Vega Records Imprint) and over 25 compilations on the industry's most revered imprints, Ministry Of Sound Recordings, Defected Records, Kingstreet, Azuli, Division (Italy), Concept, & Strictly Rhythm records all the while building Vega Records into the independent powerhouse it is today.

Ultimate recognition came in 2006, when he received a Grammy Award for the Best Remixed Recording, Non-Classical category, with his remix of Curtis Mayfield's 'Superfly'. In 2007 Vega was asked to compose and produce the song 'One Dream' (which he co-wrote with Blaze) for Cirque Du Soleil with Anane on lead vocals - Elements Of Life and Anane performed the song during the 2007 Superbowl Pre-Game Show in front of an estimated worldwide audience of over 140 million people on television and 70,000 within the stadium. With his next album - 'Elements Of Life: The Eclipse' - slated for release in winter 2012, Elements Of Life is set to continue Louie Vega's vision. The single, 'Into My Life (You Brought The Sunshine)' co-written by Blaze, Selan along with Louie Vega featuring two of Vega's long time collaborators Lisa Fischer & Cindy Mizelle.
POS.
TRACK
ARTISTS
LABEL
GENRE
RELEASED
Set Me Free
Louie Vega Vs C&C Music Factory Remix

(10:49)
2017-09-15
2017-12-08
2017-03-31
2017-03-31
2017-07-14
2017-07-17
2017-12-03
So Sweet
Louie Vega Amp Do It Again Dub

(4:52)
2017-12-29
Yemaya
Louie Vega's DJ Tool

(5:26)
2017-12-22
2017-07-17